DAVID URBANO'S DIGITAL INNOVATIONS PORTFOLIO
Strategically and creatively driven with over 15+ years of producing digital innovation and content strategy experiences for more than 25 brands. I am known as a highly organized connector of creative and technical teams and for activating large scale marketing programs on all size screens for mobile, desktop, digital signage, social media platforms, consumer product launches, and custom applications.
DIGITAL SIGNAGE CONTENT CREATIVE DIRECTION FOR BED BATH & BEYOND'S "STORES OF THE FUTURE"
Led and managed three different production agencies and re-imagined the brands customer storytelling for their new digital "stores of the future" program; consulted on their new in store touchscreen retail applications: Scan4more, Product Advisor and a Digital Catalog. The HD screens varied in size from 55″, to 2x2x46″ for their prototype Hyannis store in Massachusetts and larger 3x3x55″ digital cinematic customer point of sale screens for the rebrand of The Christmas Tree Shops called andThat! in Kennesaw, Georgia. The real challenge for these animated videos was to create a visual narrative that showed the key brand product messages without any voice overs and so customer can get sense of brand in each unique scene that I wrote. WATCH ALL HERE.
LED DUPONT.COM'S FIRST RESPONSIVE DESIGN & OVERSAW APPLICATION UX/DEVELOPMENT FOR ONLINE PRODUCT SELECTOR TOOLS
Soon after the Boston Globe went live with the first large responsive publishing site, I led the UX and development team to create a responsive prototype before standards existed as we were redesigning DuPont.com. I also led global SEO content strategy for several business units and oversaw the development of custom applications for product experiences matching solutions to symptoms or bio-engineering issues.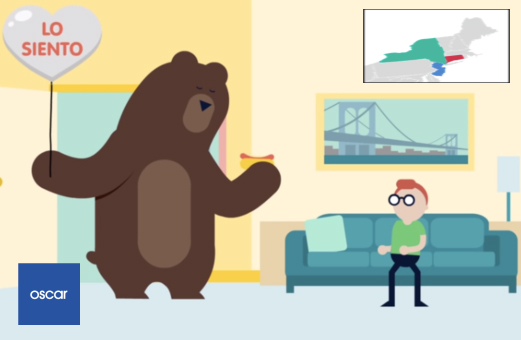 DEVELOPED CRM VIDEO STRATEGY FOR THE LAUNCH OF START-UP OSCAR HEALTH IN NEW YORK
Managed media on a publisher based network video campaign that targeted Hispanics in New York State for the Obamacare insurance start-up Oscar; this drove over 360k worth of video views in four short weeks with 16.6K clicks to site resulting in 4.6% CTR. Out of these new customers .089% requested a insurance quote and .10% left their email for future communications on HiOscar.com. These videos outperformed traditional general market YouTube pre-roll videos.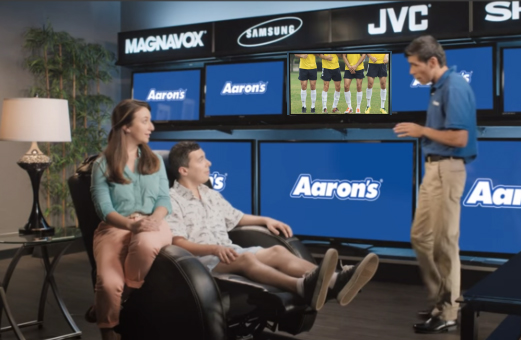 DEVELOPED PROGRAMMATIC VIDEO STRATEGY FOR AARON'S WORLD CUP CAMPAIGN
Launched Hispanic awareness during WorldCup and managed digital creative, on site logistics and overall strategy for a programmatic media buy that targeted Hispanics in 5 DMAs with two videos. This services awareness video campaign received 870k tracked impressions with 127k+ completed views and over 20k clicks to site. Over .o6% of new customers signed demonstrating that the market had high interest in renting to own.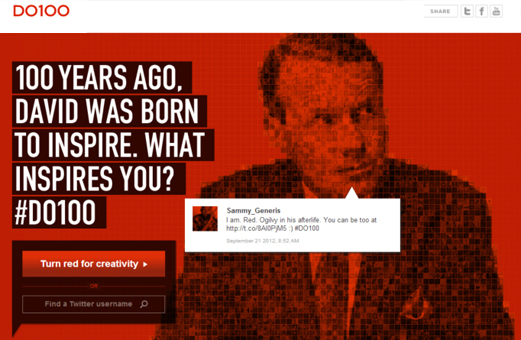 PRODUCED TWITTER API MOSAIC WHICH TURNED YOUR AVI RED FOR CREATIVITY
Produced a social movement that celebrated creativity during David Ogilvy's 100th birthday. When you used the hashtag #DO100 with an inspirational tweet this content would then become part of a mosaic and your AVI would become a shade of red and that placed you in the iconic image of the most well known advertising men using an open source algorithm.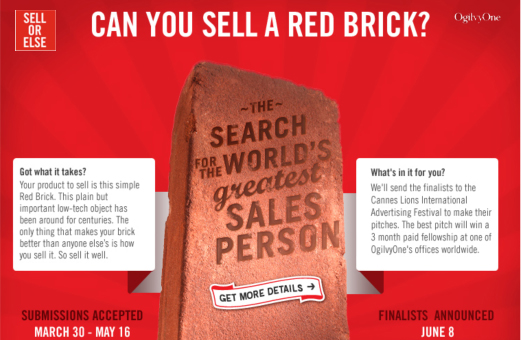 PRODUCED GLOBAL YOUTUBE VIDEO CONTEST FOR THE SEARCH FOR THE WORLD's GREATEST SALESPERSON
The idea here was to promote the business of sales consulting for OgilvyOne through a global video contest. The challenge per my suggestion was to ask YouTubers to sell something totally bizarre like a red brick to truly test their salesmanship skills. We got that FBI agent from The Sopranos to star in a few of the promotional spots that we distributed on social and Ogilvy Global network. The contest ran in 7 languages and 14 countries and the winner won a paid consultancy in the New York Office. The finalists were chosen by a live audience at the Cannes Advertising festival where they had to sell the latest mobile device.
ORIGINATED DIGITAL CONTENT HUB FOR A 360 DEGREE BRAND CRM/SEO PROGRAM FOR RÉMY MARTIN
Developed creative concept and content strategy and oversaw the responsive design, copy writers and social media plan. Effectively coordinated the paid media vendors and the experiential event marketing partnerships to holistically drive user acquisition for VIP Giveaway and CRM campaign called The Remy Martin Playbook. The overall strategic goal that I established was to move fans off of Facebook, in order to identify customers for occasion consumption and other tasting events. Fostered better digital marketing to promote Remy's more expensive brown spirits in the product portfolio. Recognized the need for the brand to pay to reach all their "fans" on the platform and more importantly to own their own data.
LAUNCHED, ORIGINATED AND PRODUCED OGILVY'S GLOBAL YOUTUBE INSPIRATION DOCUMENTARY SERIES CALLED CREATED OR ELSE
Produced a 13 part series and named it after David Ogilvy's vision that as creatives, we sell or else. Curated the subjects and the content of the entire project. Managed filming for YouTube videos that focused on how people could inspire others through their original art, in order to attract talent to the agency. CEO won an online CINE GOLDEN EAGLE film award for documentary series. While the overall series was designed for creative recruiting, it was also meant to show the true power of YouTube and Ogilvy's brand storytelling production capabilities to our clients. Oversaw the activation of a custom chromeless HD video channel interface that was ahead of it's time in 2010, before streaming long form content was commonplace. Watch trailer above and some of my favorite episodes here and be inspired.
PRODUCED DIGITAL MEDIA CREATIVE ASSETS AND OVERSAW VIRAL NETWORK VIDEO CAMPAIGN FOR THE LAUNCH OF THE FIRST GREEK YOGURT FOR MEN CALLED POWERFUL YOGURT
Oversaw digital for a new brand launch which was based on the insight that men consume 40% of yogurt. The tactics included an abs scanner that was used at events that would reveal funny things in people's stomachs, social media editorial and a viral video campaign that ended up receiving over 1.5M+ in earned media, 4.6k facebook shares and 11k clicks to site in a 4 short week insuring market awareness and helping clear their way onto shelves.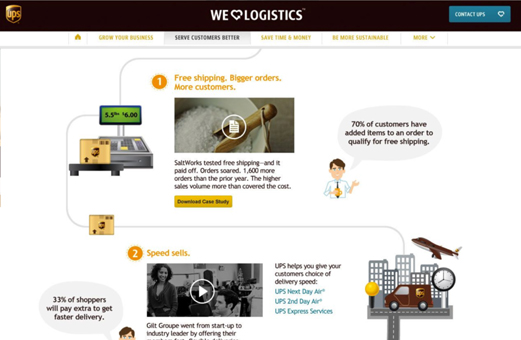 PRODUCED UPS SMALL BUSINESS UX AND PRODUCT CRM EXPERIENCE
Solved for the problem that shipping managers were pressed for time, as part of the logistics campaign I partnered in all aspects of creative process, content strategy and the UX with the Ogilvy team and to design a interesting take on a parallax experience that showed the users journey by displaying the benefits of outsourcing warehousing through case studies and benefits to small business UPS customers. Working with Accenture developers using JS code we had the UPS truck take the user down page through every step and turn in the fulfillment to the delivery process in order to show how smart logistics can simplify the day in the life of a shipping manager.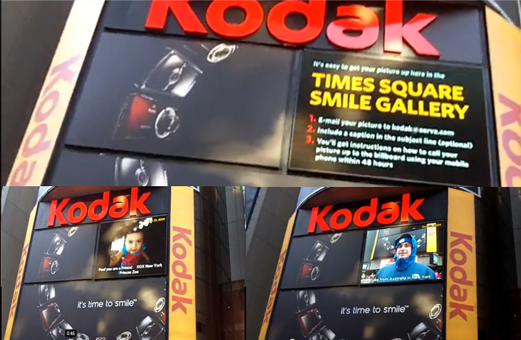 PRODUCED LARGE SCREEN DIGITAL SIGNAGE CREATIVE FOR A MOBILE BASED SMILE GALLERY MEME APPLICATION IN TIMES SQUARE FOR KODAK IN 09′!
As part of Kodak's last branding product campaign I produced this Ad Club Maven Award winning digital out of home mobile experience before MEME's or selfies were a thing for New Years of 2010. A user standing in Times Square would read the direction on the screen, email their photo along with a caption, the system would scan for profanity and the photo would magically appear in times square. This was in conjunction with Ogilvy's first iPhone Smilemaker app that I oversaw the build for that put smiles on people's faces (like snapchat does today), a video contest on YouTube and a facebook konga line application that connected your personal images via photo galleries to other people's photo galleries that I also produced at the time.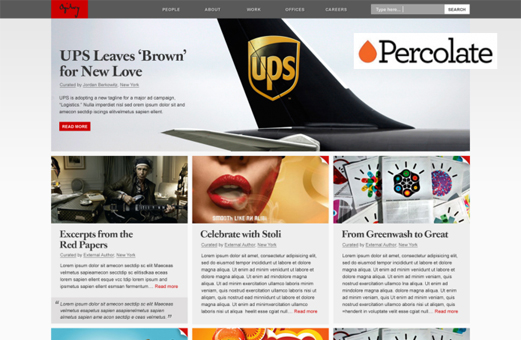 OGILVY NORTH AMERICAN AGGREGATED CONTENT NETWORK
Oversaw and produced UX, design and build using curated Ogilvy Network client work and the power of Percolate's API daily searches that would help display online Ogilvy articles that were in the days news. Instead of showing all social content passively this PR marketing system allowed a content editor to determine the image and copy and what stories get re-shared to social. This would save a PR media manager hours of effort and they would just need to curate the content that displayed on the site as it was published online.